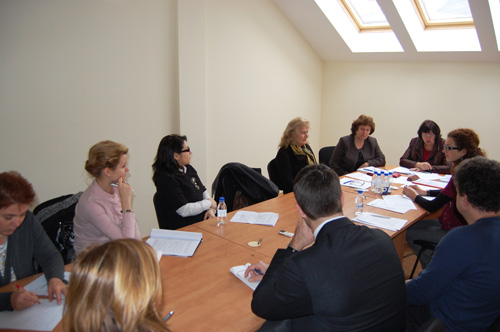 The SJC will provide assistance to BILI and the US Embassy in Bulgaria in the realization of a monitoring project on the observation and electronic administration of the random case assignment principle (RCA) in the Supreme Administrative court, the Supreme Court of Cassation and Sofia City Court
The discussion was conducted during the regular session of the SJC Committee on Professional qualification, IT and statistics (the IT Committee) on 24.01.2012 in the presence of its chair Mrs. Radka Petrova.
Mrs. Bilyana Gyaurova was invited to present a summary describing the project which stipulated as its primary objective the strengthening of external control over the RCA software and administration in respect to the latest recommendations of the European Commission on the CVM (the Cooperation and verification mechanism).
Mrs. Radka Petrova confirmed that the SJC will fully cooperate to the project implementation and will take a decision sending instructions to the administrative leaders of the courts to indicate the judicial officers who will provide BILI with technical assistance during the project.
A one-week visit of Mrs. Sheril Loesch, an expert on case management and assignment from the USA, is organized and scheduled for March as part of the project. She will be asked to prepare a detailed report providing clarification and guidance on the persisting irregularities and will be addressed at improving and supplementing the objectives already set as part of the current IT strategy of the judiciary adopted by the SJC.
To the full press release you should choose the section "Press centre" of the SJC website